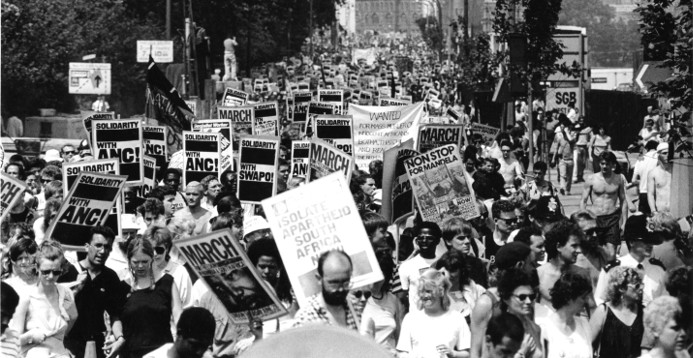 Thousands of people joined the AAM's 'March for Freedom' from Hyde Park to Clapham Common on 28 June 1986. The march was the culmination of a month-long campaign for sanctions against South Africa. At Clapham Common 250,000 took part in a Festival for Freedom with a star-studded programme organised by Artists Against Apartheid.
Copyright © Tim Jarvis
A BROAD COALITION
In the 1980s the Anti-Apartheid Movement grew from a small but determined pressure group into Britain's biggest ever mass movement on an international issue. It mobilised hundreds of thousands of people all over Britain in demonstrations for sanctions against South Africa and the release of Nelson Mandela. It created a broad coalition of students, trade unionists, churches, political parties and community organisations to work for an end to all forms of British collaboration with apartheid.
The decade began with the achievement of majority rule in Zimbabwe after 15 years of illegal white minority government. This left the AAM free to campaign against apartheid in South Africa, for independence for Namibia and against South Africa's attacks on its neighbours.
ISOLATING SOUTH AFRICA
The AAM stepped up its campaign for the isolation of South Africa. It set up the World Campaign against Military and Nuclear Collaboration, protested against rugby and other sports tours and called for an oil embargo. In 1984 it relaunched the consumer boycott of South African goods.
RESISTANCE AND REPRESSION
In the middle of the decade South Africa's townships erupted and the apartheid government launched a new wave of repression. In Britain, Southern Africa the Imprisoned Society (SATIS) campaigned for an end to political trials, the release of detainees and clemency for political prisoners condemned to death. The AAM formed new alliances with the United Democratic Front and other anti-apartheid groups inside South Africa.
SANCTIONS: THE CRISIS YEARS
As resistance grew in South Africa and Namibia, the UN General Assembly, the Commonwealth and some of South Africa's major trading partners imposed sanctions against apartheid. In Britain, the Conservative government, led by Prime Minister Margaret Thatcher, refused to impose sanctions. So the AAM called for people's sanctions. Stores like the clothing chain Next and the Co-op cancelled contracts with South Africa. In 1986 27% of the people of Britain said they boycotted South African products.
FREE NELSON MANDELA
In 1980 the AAM made a new call for the release of Nelson Mandela. Led by Glasgow, nine councils granted him the freedom of their cities. Hundreds of buildings, streets and gardens were named in his honour. In 1988 the AAM launched its biggest ever initiative 'Nelson Mandela: Freedom at 70'. A capacity concert at Wembley Stadium was broadcast worldwide and 250,000 people gathered in Hyde Park to hear Archbishop Desmond Tutu demand Mandela's release.
NAMIBIAN INDEPENDENCE
After a protracted guerrilla war fought by the South West Africa People's Organisation (SWAPO) and ten years of tortuous negotiations between the Western Contact Group and South Africa, Namibia held its first democratic elections in November 1989. In Mozambique and Angola, groups funded by apartheid South Africa waged civil war.
THE HARARE DECLARATION
Faced with mass resistance inside South Africa and mounting international pressure, South Africa's President de Klerk signalled his willingness to negotiate. The Organisation of African Unity adopted the Harare Declaration setting out preconditions for negotiations, endorsed by the UN. Apartheid was unsustainable, but it was not yet clear what would replace it.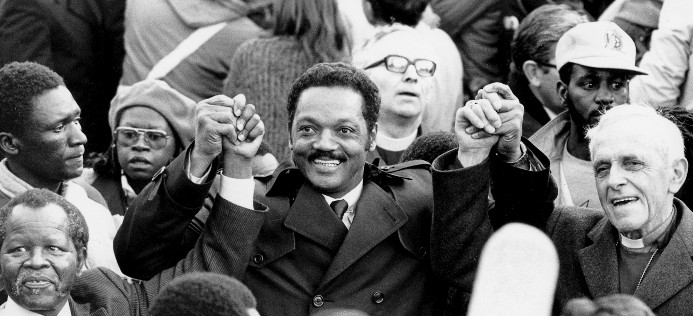 150,000 people marched from east, west and south London to Trafalgar Square on 2 November 1985 to demand British sanctions against South Africa. The march was the culmination of an intensive campaign that reached every part of Britain. In the picture are ANC President Oliver Tambo, AAM President Trevor Huddleston and US civil rights activist Jesse Jackson.