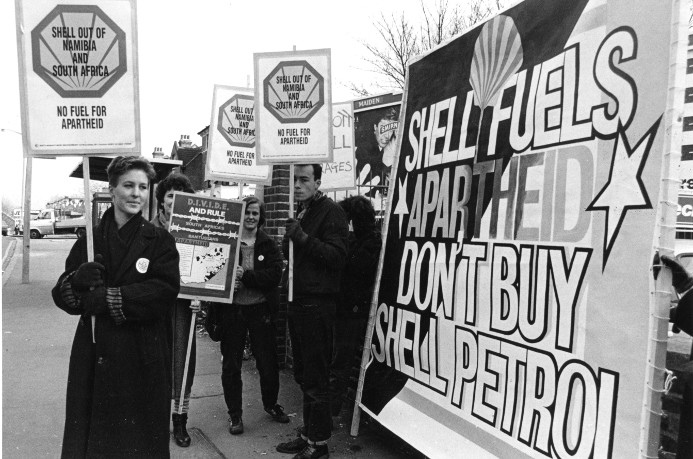 The leader of Southwark Council in south London, Anne Matthews, joined a picket of a Shell garage in May 1987. The picket was part an international week of action to persuade Shell to pull out of South Africa. Copyright © Kevin Shaw
THE DISINVESTMENT CAMPAIGN
Most big British companies had subsidiaries operating in South Africa and Namibia. From the late 1960s the Anti-Apartheid Movement campaigned to persuade them to pull out. It exposed the ways in which they supported apartheid and asked organisations and individuals to sell their shares. From 1970 one of the AAM's main targets was Barclays Bank. The campaign against Barclays began when the bank was helping to finance the Cabora Bassa dam project in Mozambique. Barclays was the biggest high street bank in South Africa.
STUDENT BOYCOTT
The campaign to persuade Barclays to pull out of South Africa went on for 16 years. Protesters disrupted the bank's annual general meetings, student unions forced the closure of campus branches and thousands of institutional and individual customers closed their accounts. Students were in the forefront of the campaign. In 1986 Barclays withdrew from South Africa.
OIL EMBARGO
Oil was the one major commodity that South Africa did not possess. Shell helped it get round the oil embargo imposed by the major oil exporting countries. In 1987 anti-apartheid groups in the USA, Netherlands and Britain launched an international campaign against Shell. Anti-apartheid campaigners picketed Shell garages all over Britain, asking motorists to boycott Shell products. In 1987 and 1988 they organised big protests at Shell's annual general meeting.
LOCAL COUNCILS
Local councils and trade unions terminated their contracts with Shell. In 1988, the high court ruled that the London Borough of Lewisham's decision to boycott Shell was against the law. In spite of this, in the late 1980s Shell's share of the UK petrol market fell by nearly 7 per cent.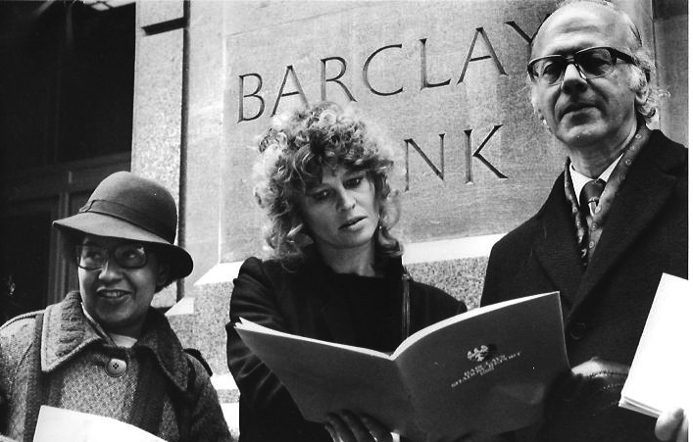 Actor Julie Christie (centre) with Jane Goldsmith of the World University Service and Gerry Gillman, General Secretary of the clerical workers union CPSA, outside the annual general meeting of Barclays Bank in April 1981. They were members of a 'shadow board' set up in January 1981 to monitor the bank's activities in Southern Africa. Copyright © Morning Star